Everywhere I Go I Bring My Ghost
"You Can't Kill Light
by Monica Pasqual. Planet Dog Records. 
Known for two decades as a member of Blame Sally, Bay Area folk-pop singer-songwriter Monica Pasqual eclipses much of her previous recorded work with this, her sixth solo album. She jump-started the creative process by issuing a single and video of "You Cant Kill Light" on the morning of the 2017 presidential inauguration. In subsequent weekly sessions with co-producer and multi-instrumentalist BZ Lewis, she added ten more songs that speak from both painful experience and optimistic resistance. The now driving, now dreamy folk-rock and electro-pop settings are conjured from Pasqual's piano, keyboards, and percussion, Lewis's guitars, bass, drum programming, and percussion, and, on three tracks, Joshua McClain's cello, plus a reading by Rosario Sammartino. In lyrical acuteness, Pasqual has outdone herself, and without any histrionics her lovely voice gives the words melodic grace and gravitas. A worthy heir of Laura Nyro, Tim Buckley, and Suzanne Vega, Pasqual creates her own context in a 21st century moment. 
—DERK RICHARDSON, Oakland Magazine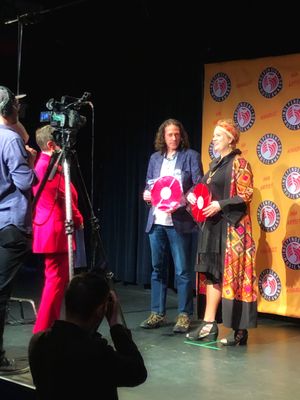 FOUR INDEPENDENT MUSIC AWARDS FOR "You Can't Kill Light"!
-Best Eclectic Song: Sun In My Eye.
-Fan Favorite Eclectic Song: Sun in My Eye
-Fan Favorite Americana Song: Feels Like Something
-Best Adult Contemporary Album



Photo of my co-producer BZ Lewis and myself accepting the award at Symphony Space in NYC.